Description
Wake Up 
Refreshed 

After a Good Night's Sleep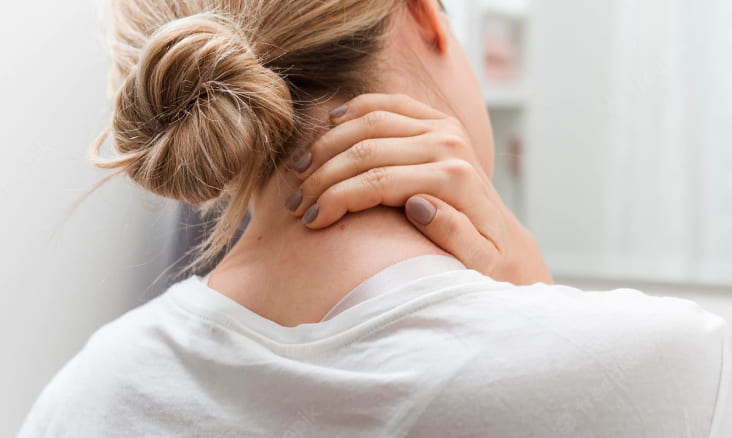 Back, neck and shoulder pain are often caused (or made worse by) bad posture and unsuitable pillows.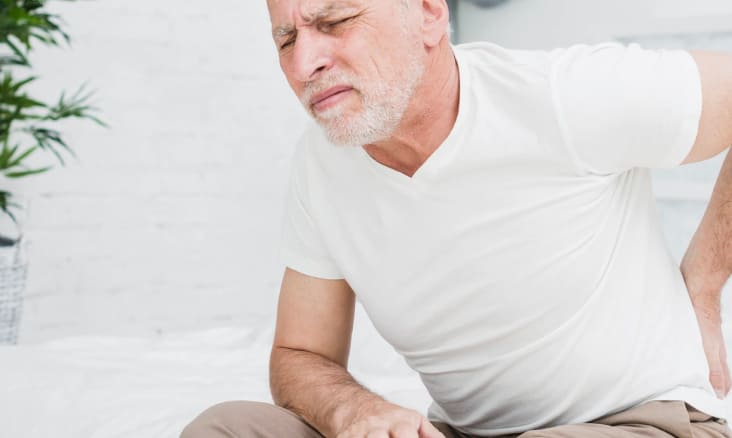 Later in life, your joints and muscles can't recover from a bad sleeping position as easily as before, so the right pillow becomes an essential.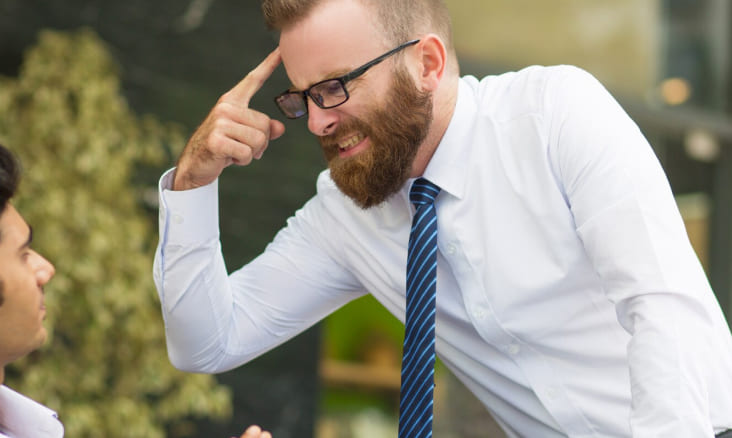 Poor sleep means you wake up tired, grumpy and struggling. Derila helps you get the restful sleep you need to take on the day.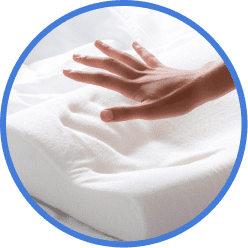 How the 
Derila

 Memory Foam Pillow Helps You Sleep Peacefully

Derila follows your spine's natural curvature, and the memory foam responds to your weight and shape, giving you the support you need to sleep without pain.
Better
Sleep

, From the Very First Night
GET READY TO SLEEP BETTER WİTH DERİLA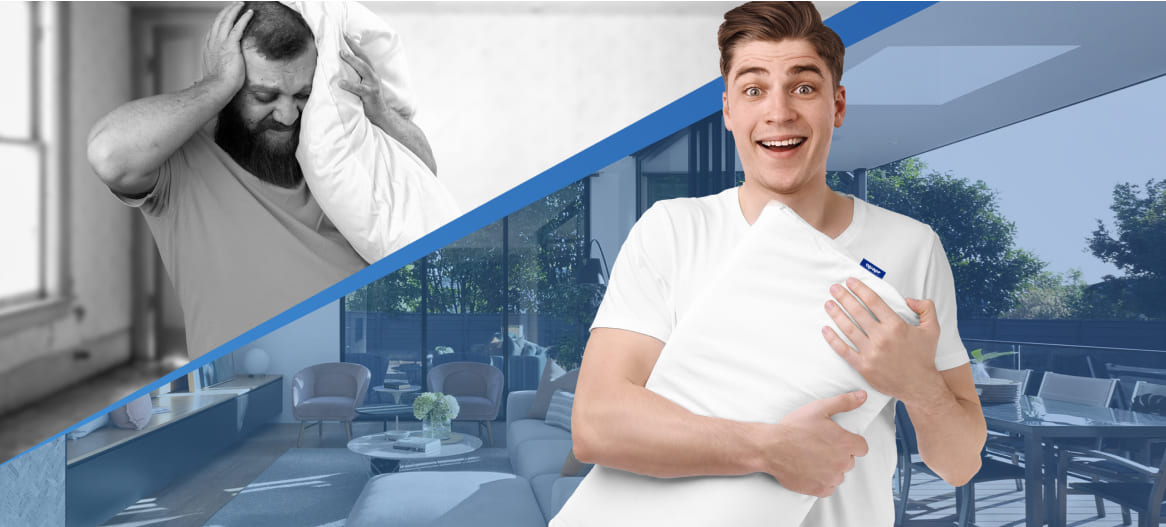 Undo The Damage Done By Poor-Quality 
Sleep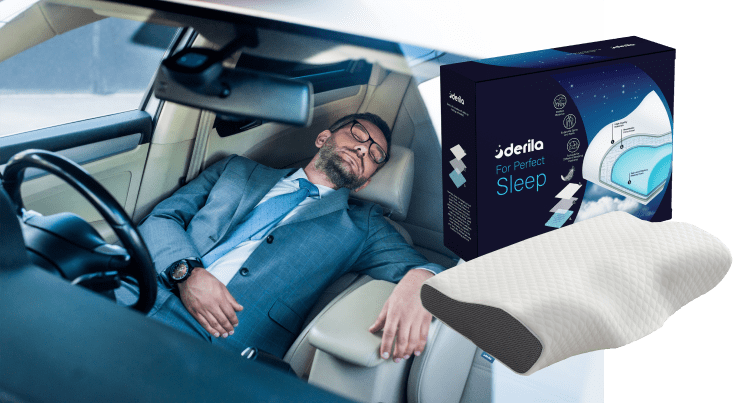 REDUCE MUSCLE PAİN AND HEADACHES
Poor sleep posture (especially when combined with stress) can cause back pain and tension headaches. Derila provides contoured support to reduce pain.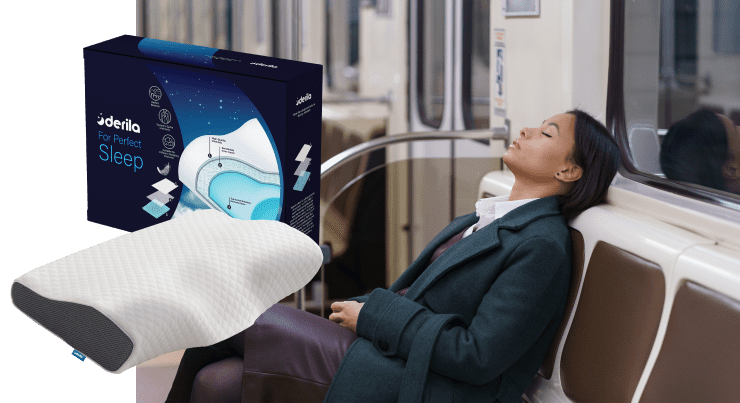 DEAL WİTH SNORİNG
Regular pillows often contribute to snoring as they fail to provide the right neck position. Derila can open the airways and reduce nasal congestion and snoring.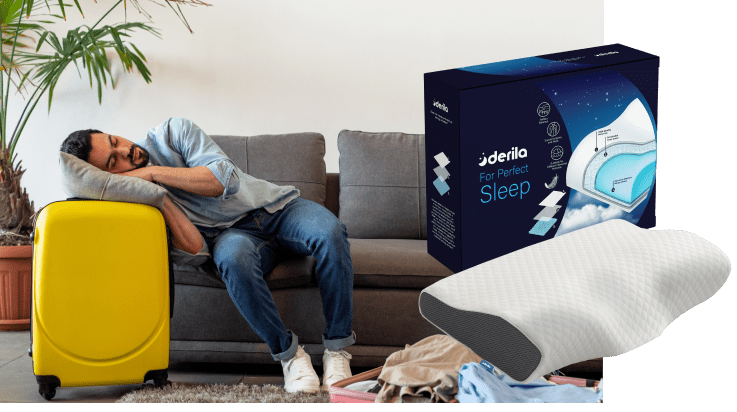 SLEEP ON-THE-GO
Ideal for commuters and travelers, Derila can go with you anywhere, so you can sleep well even in your car or on a plane.
Why Choose 
Derila

?
Advanced

Memory Foam

30 Day

Satisfaction Guarantee

Ideal for

Back, Side & Stomach Sleepers

Molds to your

Unique Shape and Weight

Affordable

Price
What's Inside The Derila Pillow: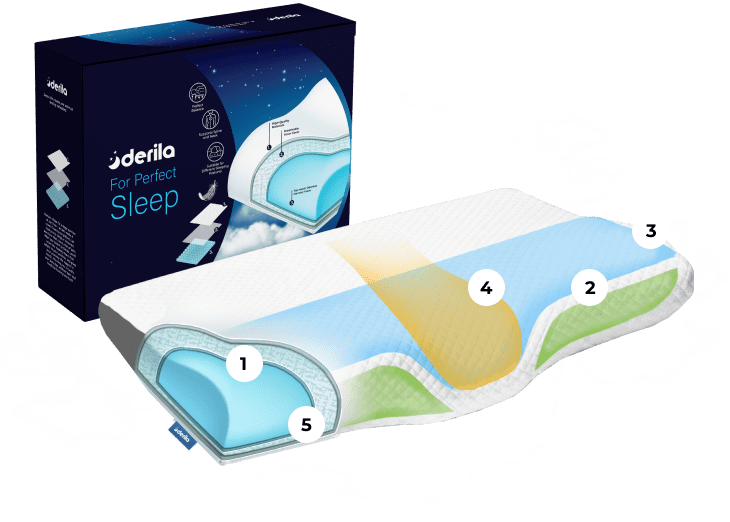 1. HİGH-DENSİTY MEMORY FOAM
This high-quality memory foam adjusts to your shape and weight
2. BUTTERFLY SUPPORT WİNGS
Wings at each side mean the Derila works for side, back and stomach sleepers.
3. PERFECT SLEEP HEİGHT
Holds your neck at the ideal height for a natural sleep posture
4. NECK NOOK
Gently cradles your head to reduce tossing, turning and restlessness
5. COOLİNG OUTER LAYER
Regulates temperature so you can sleep in comfort
Frequently Asked 
Questions
S: Will this help with my back and neck pain?
C: Poor sleep posture is a leading cause of pain. The Derila helps reduce back and neck pain, along with tension headaches and shoulder pain, by supporting your spine through the night.
S: I'm a light sleeper. Will this help me sleep more soundly?
C: Light sleep is often due to discomfort, stress or snoring. The Derila can help by giving you a comfortable, supportive sleep position that aids breathing to help you sleep more deeply.
S: Is this good for travel?
C: Yes! The Derila is light and easy to transport, and can be used anywhere – on planes, in hotels or even in your car. It works in any sleep position.
S: Do you think this would make a good gift?
C: Yes – many customers go on to buy extra pillows for their friends and family. It makes a great present for people who work long hours or travel frequently, or for older people suffering from joint and muscle pain.